エレクトレットコンデンサマイクロホン(Hangzhou CK High-Tech Co., Ltd)
Exclusive Agent for CK in Japan
Purchasing Guide English Japanese Chinese
---
エレクトレットコンデンサマイク 無線周波妨害(RFI)対策
RFI, radio-frequency interference 無線周波妨害
---
単一指向性タイプ(Unidirectional)
Ø6.0Unidirectional Solderless Microphone Back Electret
MODEL
DxH
Sensitivity(dB)
Measurement(mm)
A
B
UCK6027S
Ø6.0 ×2.7
-46~50
6.0
2.7
UCK6022S
Ø6.0 ×2.2
-46~50
6.0
2.2

Dimensional




周波数特性曲線(Typical Frequency Response Curve)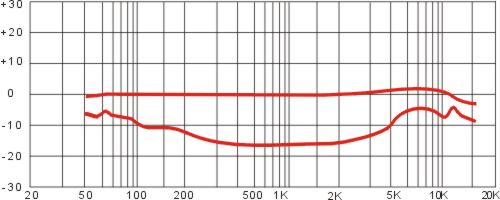 Specificational

| Parameter | Typical Value | Unit |
| --- | --- | --- |
| 感度(Sensitivity) | -47±4 | dB |
| 指向性(Directivity) | 単一指向性 | |
| インピーダンス(Impedance) | 2.2(max) | KΩ |
| S/N比(S/N Ratio) | 58(min) | dB |
| 標準動作電圧(Standard Operation Voltage) | 2.0 | V(DC) |
| 動作電流(Current Consumption) | 0.5(max) | mA |
| 周波数(Frequency) | 50~16,000 | Hz |

Schematic Diagram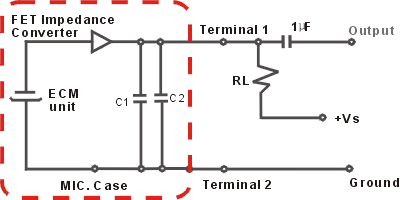 指向性(Angular Response)





Ø6.0Unidirectional Pin Type Microphone Back Electret
UCK6022P
UCK6027P
Ø6.0Unidirectional Lead Wire Microphone Back Electret
UCK6022L
UCK6027L

全指向性タイプ(Omnidirectional)
周波数特性曲線(Typical Frequency Response Curve)




指向性(Angular Response)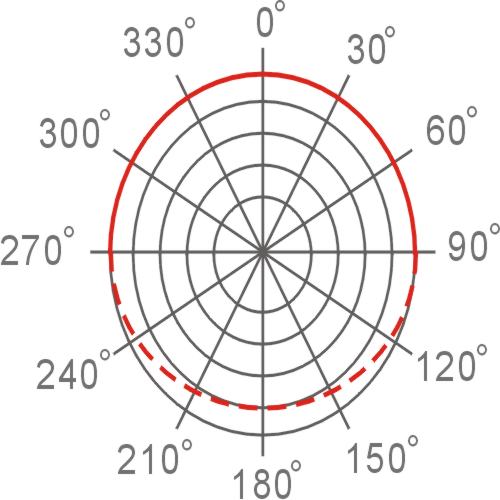 Ø4.0Omnidirectional Solderless Microphone Back Electret
CK4011S
CK4013S
CK4015S
CK4018S
CK4022S
Ø4.0Omnidirectional Pin Type Microphone Back Electret
CK4011P
CK4013P
CK4015P
CK4018P
CK4022P
Ø4.0Omnidirectional Lead Widre Microphone Back Electret
CK4011L
CK4013L
CK4015L
CK4018L
CK4022L
Ø6.0Omnidirectional Solderless Microphone Back Electret
CK6011S
CK6015S
CK6018S
CK6022S
Ø6.0Omnidirectional Pin Type Microphone Back Electret
CK6011P
CK6015P
CK6018P
CK6022P
CK6022P
Ø6.0Omnidirectional Lead Widre Microphone Back Electret
CK6011L
CK6015L
CK6018L
CK6022L

雑音除去タイプ(Noise Cancelling)
周波数特性曲線(Typical Frequency Response Curve)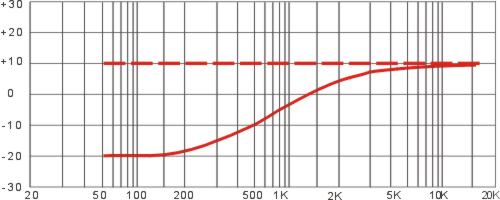 指向性(Angular Response)




Ø4.0Noise Cancelling Solderless Microphone Back Electret
NCK4011S
NCK4015S
NCK4018S
NCK4022S
Ø4.0Noise Cancelling Pin Type Microphone Back Electret
CK4011P
CK4015P
CK4018P
CK4022P
Ø4.0Noise Cancelling Lead Wire Microphone Back Electret
NCK4011L
NCK4015L
NCK4018L
NCK4022L
Ø6.0Noise Cancelling Solderless Microphone Back Electret
NCK6011S
NCK6015S
NCK6018S
NCK6022S
Ø6.0Noise Cancelling Pin Type Microphone Back Electret
CK6011P
CK6015P
CK6018P
CK6022P
Ø6.0Noise Cancelling Lead Wire Microphone Back Electret
NCK6011L
NCK6015L
NCK6018L
NCK6022L

プロ級(Professional)
Ø9.7Unidirectional Lead Wire Microphone Back Electret
UCK9745L
Dimensional




周波数特性曲線(Typical Frequency Response Curve)




指向性(Angular Response)



Ø16.3Unidirectional Lead Wire Microphone Back Electret
周波数特性曲線(Typical Frequency Response Curve)




UCK1606-CA
UCK1606-CB
UCK1606-CC
UCK1606-CD


応用(Application)
製品についてのお問い合わせ、TEL:078-642-4616,FAX:078-643-1844, msc@msckobe.comまでお願いします。
Exclusive Agent for CK in Japan
杭州喜凯科技有限公司,http://www.hzck.com/
microphone,マイクロフォン,麦克风,微音器,话筒
Condenser Microphone,电容式麦克风,コンデンサマイク
Hangzhou CK High-Tech Co., Ltd. founded in Sep. 2004, as a Sino-Korea joint venture company located in Hangzhou High and New Technology Economic Industry Development Zone, is mainly devoted to the research and production of condenser microphones, receivers, loudspeakers, and many more. The usage of our products range from mobile phones, earphones to digital cameras and MP3 players.
Our first-class competitive products, based on 20 years of experience with our South Korean investor, are high in quality,performance and cost efficient,. At the first stage, four of our automatic & semi-automatic production lines (our very own patent), including automatic measuring and selecting machines, have been put into operation. The products we are fabricating cover all usages of mobile phones, earphones, digital cameras, Mp3 players, and many other electronic products. We have the capability of producing 6 million microphones a month with less than 100 workers. In addition, three more automatic production lines are being put into operation for receivers and loudspeakers at the beginning of 2006, which have the same production capacity as the microphone. Also, three new automatic microphone production lines are being added by the end of 2005. Hence, our total production of microphones will be about 12 millions peices per month.
To assure the best quality of our products, all parts and materials from selected suppliers of Japan and South Korea are inspected before entering our storage and production lines and are assembled in a clean workshop. After, the products are heated in a high temperature oven to maintain a steady pattern, and tested by automatic machines to avoid any errors. In addition, we perform spot checks in an anechoic room with Danish B&K's electro acoustic test system. Our simulated tests for storage, transportation, and usage guarantee our products' quality and long lasting life.
A group of talented and experienced engineers helps our company stay on top of the microphone industry.
---
戻る